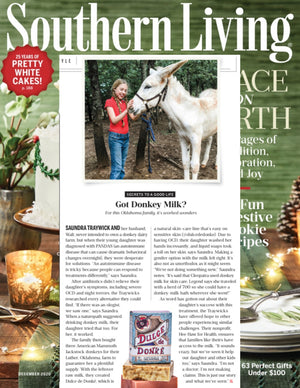 Schedule trip to the Oklahoma Donkey Dairy for Raw Donkey Milk
Sale price Price $1.00 Regular price
This is to schedule an appointment to pick up raw donkey milk at the Oklahoma Donkey Dairy. We cannot actually sell our raw donkey milk online, due to limited availability and the fact that by law, you must pick up raw milk at the farm.
You can purchase this item and we will email you more information about our raw donkey milk, (or you can save a buck and just email us at Walt@OklahomaDonkeyDairy.com and we will reply with more information on picking up raw donkey milk, frozen in glass jars, at the Oklahoma Donkey Dairy, located 25 minutes east of Oklahoma City.)
Below is the link to the published research on donkey milk quoted in the memes above:
https://donkeymilkforhealth.com/pages/research-on-donkey-milk
YOU MUST PROVIDE A VALID EMAIL ADDRESS IN ORDER FOR US TO CONTACT YOU TO SCHEDULE YOUR MILK PICKUP.
IN STOCK NOW:
As seen in Southern Living, Garden & Gun, KOCO news, Fox News, News 9...
RAW DONKEY MILK, frozen in glass jars, available for farm pickup only.
Raw Donkey Milk from our farm in Oklahoma is available for pick up only. (It is illegal to ship raw milk of any kind.) If you can't make the trip to Oklahoma, we are hearing excellent results with the Azores Donkey Milk, and we can ship it anywhere in the USA.  
We cannot sell raw milk on our website however, we DO have Raw Donkey Milk AVAILABLE NOW for farm pick up only. For more information, please email walt@oklahomadonkeydairy.com 
How does it taste?
Well, ask Rhett and Link. 
(Go to Our Story for more News stories on our farm and donkey milk.)